Hire Android Application Developer
In present era when everything is been designed as per the customization. For hiring an Android Application Developer in Noida today is a trendsetter inside of defined solution providers. Today there are many companies who provide solutions for all such requirements; they have also been successful in fulfilling the clients need but not able to deliver the results to the clients satisfaction level.
We Shashwat Web Technologies provide our clients with the customized, bespoke, tailor-made solutions for their need for application development.
Mobilizing the Web Services

Our experts believe in that each and every client is different as so are their requirements. Our experts go at extra length to provide the best of the application solutions to our clients as per their need.
We Shashwat Web Technologies is one of the premier android application development company, our main focus is on delivering the exceptional standards of not only the money you will spend but also the excellence to our client's satisfaction level by meeting up all your requirements.
Mobile Media (Video) Solutions

We understand that as you will be outsourcing the development of your android application development Noida (India) you might feel that there are many issues will be involved related to delivery and billing. At Shashwat Web Technologies we provide you with the complete tracking of the time duration spent working on your application development, so indirectly we also make is sure that we provide you with the complete satisfaction and surety.
We Shashwat Web Technologies are dealing with android application development since long. We provide you with the dedicated hiring strategy through which you can hire, manage and pay for the android application developer on part-time, full-time, hourly or monthly basis.
Geo Location Based Apps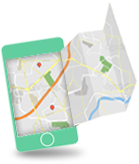 Our team of experts for android application development has high-quality experience of developing android application in diverse areas. Our team members for android application developers in Noida have excellent work experience of years together. If you are looking for an android application developer then we have a solution for your look-out.