Android Application Development
The present era is also known as era of smart phones, where many users are taking advantage of the tremendous amenities that smart phones can bring. iPhone, Android phones, Blackberry and other smart phones enable there users to execute many tasks on their smart mobile phones which in yester day's one has to sit on a desktop computers or hand-held devices with wired internet connection and spend hours for it. Today android is used by many leading mobile manufactures as their mobile operating systems brands like HTC, Blackberry and Samsung.
Android is a complete mobile operating system which provides a wide-range of mobile applications, a multimedia user interface and numerous other additional features. Application development based on this operating system covers the infinite area of features like communication, office and business, multimedia, travel and location-based applications, internet and browsing, e-Commerce, games and entertainment the list is endless. The application development based on android is very similar to development of any other software.
Today there are many software companies who are providing android based application development services. If you are looking for the development of your android based application development it is better to hire a professional and experienced application development company.
Shashwat Web Technologies we have a team of professionals who have considerable experience in mobile application development. They are well-qualified with the processes of design, development and testing mobile application development. Once the development process is completed they test the applications for any kind of problems and resolve it, if any problem arises.
Our team of professionals is known for meeting the deadlines of our clients. At times it might take little time for the execution of a new idea and there must be times when the application needs to be developed straight away to cover up the market competition. Our developers are well versed of any kind of situation to be handled.
Our mobile application developers understand the needs of customers and they can develop mobile application as per your requirements and finical resources. Shashwat Web Technologies is known for their timely delivery as per our client satisfaction.
Mobilizing the Web Services

At Shashwat Web Technologies our experts first focus on identifying the core area of interest of our client for the project, as without identification of the project it will not be possible to provide you with the satisfactory results.
Once the project is identified our experts prepare a layout of the application for you to have a better idea of the project. They design the layout of mostly all the pages of the proposed application, once approved by you then only they move ahead with the development of the application so in a way you see you android application well in advance.
Mobile Media (Video) Solutions

After the approval given by you our experts start working on the development of the Android Application Development Noida (INDIA), as the layout plan has already been shared and got approved with you earlier, hence it become easy for our team to do the development and deliver the same in the set timeline.
Our job does not only ends here we are aware that this android application is a new thing for you to start with, hence our experts provide you with the post delivery support by publishing this android application on Google play account, by this our experts make it sure that users use your application earliest and without any hassles to it.
Geo Location Based Apps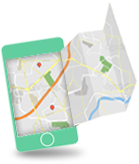 We at Shashwat Web Technologies understand this well that you might be hesitant before outsourcing this android application development work to us, however we guarantee you the supreme satisfaction for the development and delivery of the application.
We at Shashwat Web Technologies provide assistance for the development of almost all kind of application like: Android Application Development Services to develop Multimedia Applications, Communication Applications, Business Applications, Finance Applications and Web Service Based Applications.